Noua Ordine Culturală (III)
De Eugen Matzota
Mai adânc în acest New Age
Stef Aupers și Dick Houtman abordează în "Dincolo de supermarketul spiritual și semnificația socială și publică a spiritualității New Age" sursele și impactul social al spiritualității New Age. Ei se referă la viziunea în conformitate cu care anumiți analiști văd in acest fenomen o colecție, un fel de adunătură aparent incoerentă de idei si practici spirituale.
---
Și, într-un fel, New Age este eclectic, ba chiar, mai mult de atât, un proces "eclectic, – dacă nu cleptoman.*"
Această spiritualitate se sprijină pe multiple tradiții, stiluri și idei la modul simultan, pentru a deveni o religie de tip do-it-yourself, cum spune C. Baerveldt**; sau o religie de tip pick-and-mix, în conformitate cu Malcolm Hamilton*** – nu departe de maniera Match&Mix a Post-Modernismului ca întreg.
De fapt, eroziunea monopolului deținut de creștinism și, într-un mod semnificativ, apariția unei piețe de ultimă semnificație au condus, concertat, la apariția tendinței unui bricolaj individual.
New Age adună un bogat material psihologic, terapeutic, magic, marginal științific, precum și material esoteric mai vechi, îl reîmpachetează, și îl oferă spre consum individual și ca viitor uz individual sincretic.

Luckman, 'The Invisible Religion
Pe scurt, aceasta este un fel de religie la cerere, cam așa cum face un DJ care alege și combină diferite piese muzicale creând ceva care i se pare că se potrivește împreună. Aceasta ar putea constitui latura întunecată în analizarea fenomenului New Age.
Partea luminoasă o constituie ecoul vocilor lui Aupers și Houtman, care, în "Religions of Modernity. Relocating the Sacred Self in the Digital," 2010, susțin că spiritualitatea New Age este mai puțin eclectică și incoerentă decât se presupune în mod tipic.
Ei susțin că este mai degrabă o "misconstrucție'' intelectuală instituționalizată, și această presupoziție se întemeiază pe investigații și studii antropologice și sociologice.
VA URMA
Fragment din cartea TEOSOFIA, ULTIMUL RĂSPUNS
---
NOTE:

* Possamai, Adam, Religion and Popular Culture: A Hyper-Real Testament (Dieux, Hommes et Religions / Gods, Humans and Religions) 2nd Edition, P.I.E-Peter Lang S.A., Éditions Scientifiques Internationales; 2 edition, 2007, p. 126.
** Baerveldt, C. New Age-religiositeit als individueel constructieproces. In De kool en de geit in de nieuwe tijd: Wetenschappelijke reflecties op New Age, M. Moerland (ed.), 19-31. Utrecht, 1996.
*** Hamilton, Malcolm, Beyond the New Age. Exploring Alternative Spirituality, Edinborough, Edinborough University Press, 2000.
---
---
Îți place ce-am făcut până acum?
Ajută-ne să mergem mai departe,
cu atât cât poți.
Leu cu leu s-a construit Ateneul.
Asociația ECOULTOUR – OAMENI, FAPTE, IDEI
RO46INGB0000999911598179, ING Bank,
RO21BTRLRONCRT0287053901, Banca Transilvania
Did you like it?

DONATE

THANK YOU!
De citit în limba română: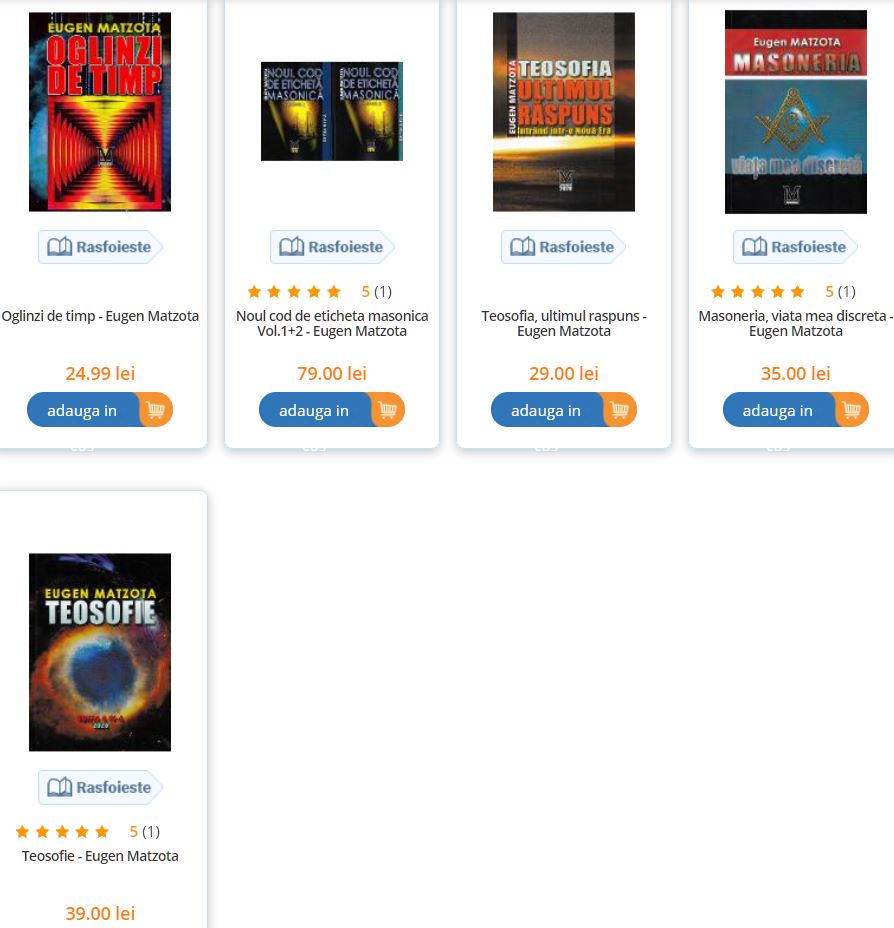 Readings in English